BIRTH ALCHEMY
Metamorphosis into Motherhood
Are you ready to embark upon a journey of self-exploration and discovery that will prepare you body, mind, and soul for the transformative rite of passage that is Birth & Motherhood?
Birth Alchemy intertwines the physical, psychological, and metaphysical aspects of pregnancy and birth.
I am here to guide you to work with your innate feminine power, to help you uncover and clear energetic blocks, and to dive into the depths of your soul to ignite your inner spark.
I am here to help you forge an unbreakable connection to your intuition.
I am here to serve you body, mind, and spirit; to walk alongside you as you enter each portal of your journey; to help facilitate true, dynamic metamorphosis.
This is NOT your average birth-prep course.
How is it different?
Most birth prep + childbirth education courses center around the physical aspects of the birth process and how to navigate the abusive maternity care systems. This is not one of them.
Most online birth prep + childbirth education courses are automated and impersonal. Again, this is not one of them.
This program isn't for the woman seeking to "avoid interventions"—
This is for the woman who
knows

she doesn't need them.
The woman who is ready to release any stories that tell her she is a victim.
The woman who is prepared to take radical responsibility for herself and her experiences.
An in-depth, individualized framework that includes a close one-on-one virtual relationship with me as you navigate your journey of self discovery and metamorphosis.
Uncover your fears, blocks, vulnerabilities, personal & inherited traumas, and anything else standing in the way of your ability to trust yourself, to surrender to the process, and to tap into your own power and sense of authority.
MODULE 1: Intuition
Understanding intuition; learning to listen to your subtle inner navigator; how to rely on your intuition and instincts in birth (and life).
MODULE 2: A Mythological Framework for Birth
Let go of rigid, textbook explanations of what to expect when you're expecting and learn to use myths as maps for this monumental rite of passage.
MODULE 3: Preparing for the Transformative Power of Birth
Letting go of the idea of birth as a physical hurdle to overcome and embracing the concept of birth as a transformational rite of passage. This module includes a basic framework for interpreting the metaphysical sources of resistance in labor.
MODULE 4: Overcoming Fears
Uncovering & alchemizing your conscious and subconscious fears; cultivating awareness pertaining to the ways you respond to fear and anxiety.
MODULE 5: Sacral Healing + Womb Connection
Clearing the trauma (both personal and intergenerational), shame, and stories of victimhood we hold in our wombspace .
MODULE 6: Embracing the Unknown
A natural, non-pathologizing approach to the physiological aspects of labor & birth. Learning to release expectations and fully embrace your individual journey.
MODULE 7: Choosing Embodiment
Bringing awareness to the ways you tend to disembody; learning to choose embodiment; the importance of embodiment during birth; cultivating love & self-acceptance.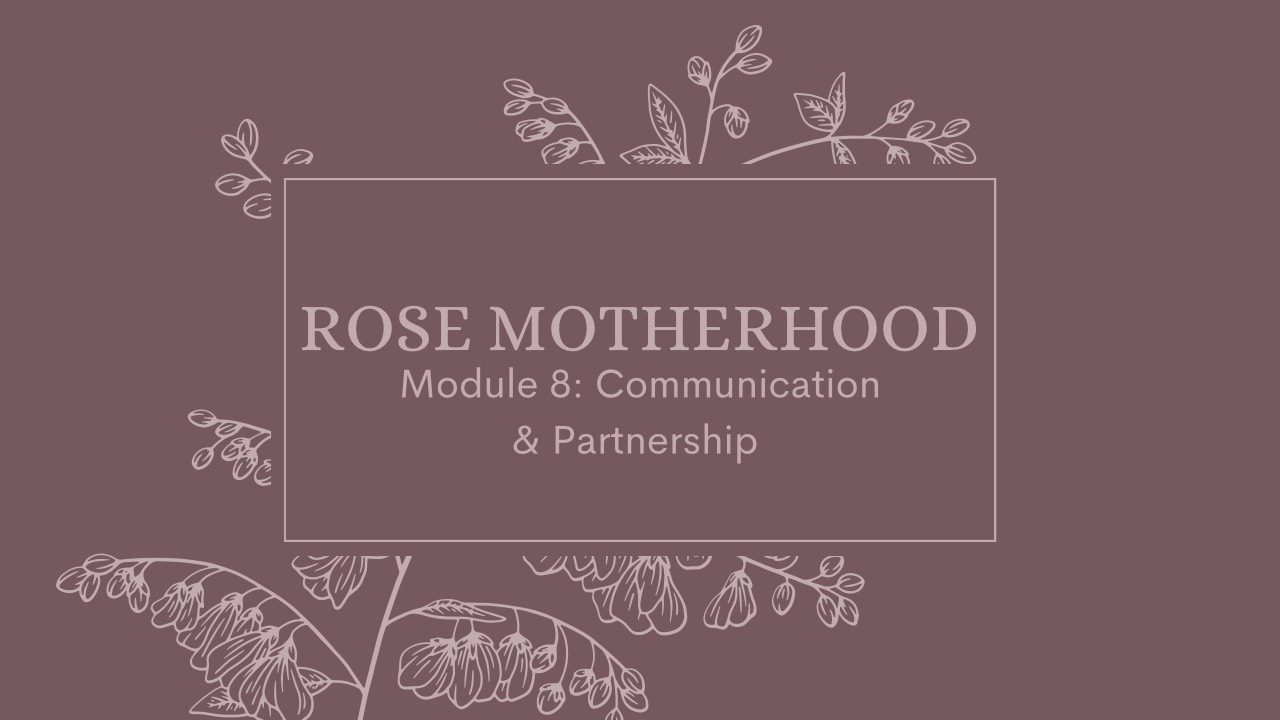 MODULE 8: Communication & Partnership
Using your voice to express your needs and boundaries. Opening yourself up to receiving. Exploring your partner's supportive, sacred role. Calling on your community for support.
MODULE 9: Reframing Pain + Tapping Into Your Power
Recognizing the ways you create added resistance to pain; reframing your beliefs about pain in labor; cultivating strength of mind and character.
MODULE 10: Metaphorical Death & Transformation
Embracing your metaphorical death and allowing yourself to complete your metamorphosis. The art of surrender. Exploring the subconscious themes that may create resistance and block your ability to submit to the flow of labor.
MODULE 11: Embodied Motherhood
Processing your birth experience; reflecting on your birth story; continuing to choose awareness and sovereignty in motherhood; postpartum care + nourishment.
Resources
You will have access to a wide variety of resources related to pregnancy, labor, birth, and postpartum. This includes my ebook, Herbal Allies & Holistic Protocols for the childbearing year, along with many others.
one-on-one guidance & support
This is NOT an automated, impersonal online course-- I can't stress that enough.
This is an immersive program that features a one-on-one ongoing relationship with yours truly. You will have access to my support via text, email, and (two) one-on-one calls. These calls will be a container for accountability, reflections, discovery, feminine support, encouragement, cultivating awareness, facilitating growth, and integrating the concepts you explored in each module.
Each module includes audio recordings of lessons + concepts so you can listen at your convenience, journal prompts, introspective activities, integrative activities, rituals, affirmations, and more.
I am a homeschooling, tiny-homesteading, mother-of-three who is deeply in love with her husband, her children, her life, and her work.
My soul work is serving women both locally (in the Central Texas Hill Country) as a Holistic Birthkeeper, and virtually through my online offerings.
I believe birth is a sacred experience that initiates mothers into a new era of their lives by teaching them how to embody the power that lies within them whilst also surrendering to the natural rhythm of the process.
After working as a doula and then birthkeeper for many years, I realized that what many women were missing when preparing for birth was a framework that acknowledged birth as a rite of passage. Women needed a framework that emphasized the psychological, emotional, and metaphysical aspects of birth. This is how Birth Alchemy was born.
"All of the mythology and stories introduced were so potent and perfect for symbolizing the journey into motherhood. They have strengthened my trust in myself and deepened my appreciation for being a woman with the power to bring life into this world."
Brittany
"The journal prompts caught me off guard and had me going deeper than I thought was possible. They helped me discover facets of myself that I had buried. It was like holding up a mirror to my soul, enabling me to clear any negative energy I was holding onto before passing through the portal into motherhood. I definitely think it has made an impact on the way I am able to show up as a mother to my baby."
Amber
Birth Alchemy is for you if:
You have at least 12-13 weeks left in pregnancy (you can begin as early as you wish, I just want you to have the time to complete every module with me before you give birth!)
You wish to approach your pregnancy, birth, and postpartum as a transcendental experience.
You want the support of a wise, loving 'sister' and confidant who will walk with you on this sacred journey.
You are seeking a truly holistic program that acknowledges the many layers of reality (physical, emotional, mental, spiritual) and how they all intertwine during the rite of passage that is Birth + Motherhood.
You live consciously and with intention.
You are not afraid to look within; to descend into the depths of your own personal Underworld (unconscious) in order to facilitate a profound metamorphosis as you enter the next phase of your life.
You are ready to be guided back to your SELF: your own inner authority and intuition.
You are committed to dedicating time and energy toward profound inner work and growth.
How long does this framework take to complete?
How many calls will there be?
Can you explain the payment plans?
What is included in each module?